About Our Contest
We hold this contest to give an opportunity for children of the future generation to become more aware of their global environment through drawing picture under the theme of the environmet of our Earth.

The 22nd Award Winning Works
Comment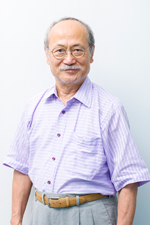 The screening session for this contest is the work I look forward to most during the year, as I get to see the pictures that the children who receive the theme have thought a lot about and drawn, and I get inspired by their passionate thoughts. I want to give the first prize to every drawing here. Choosing one is really tough every time. We, the judges, cherish each momentary encounter with each drawing and select the works that resonate with us.
Also, every year at this screening, I am keenly aware of how as we get older, we get caught up in our daily chores and how our compassion for nature, people, animals, and plants has diminished compared to that of our children.

Animals respond to moving objects because they live outside, but we human beings are creatures that can stare at stationary objects. For example, when a butterfly is flying, we human beings cannot understand how its wings move and why it is able to fly, but when it is a motionless specimen, we can see every detail of its shape and can draw a picture of its mechanism. So painting is a mind-intensive process, and I think this is one of the conditions that separate human beings from animals. I would love so much to take home all the pictures here for a closer look, but unfortunately that is not possible, so I'm looking at them carefully here.

Paintings are mirrors that reflect the human mind. The pictures here are a mirror reflecting the minds of children. I come here every year to learn how children's minds are reflected in drawings.

Don't we adults treat children too lightly because they are children? However, children are the ones who strongly hold our original feelings. If we continue to have the original feelings that everyone had when they were children, even into adulthood, we will be able to understand the strength and weight of sentiments today's children feel. If we do so, wars and wasteful spending will cease to exist in the world.
Kinutani Koji
Chairman of the Judging Committee,
Painter / Emeritus Professor of Tokyo University of the Arts
Screening
The finals of the 22nd JQA International Environmental Chirdren's Drawing Contest was held on June 30, 2022. Those drawings that best expressed the contest themes, "Choosing Eco-Friendly Lifestyles", were awarded by strict and fair screening.



Judges